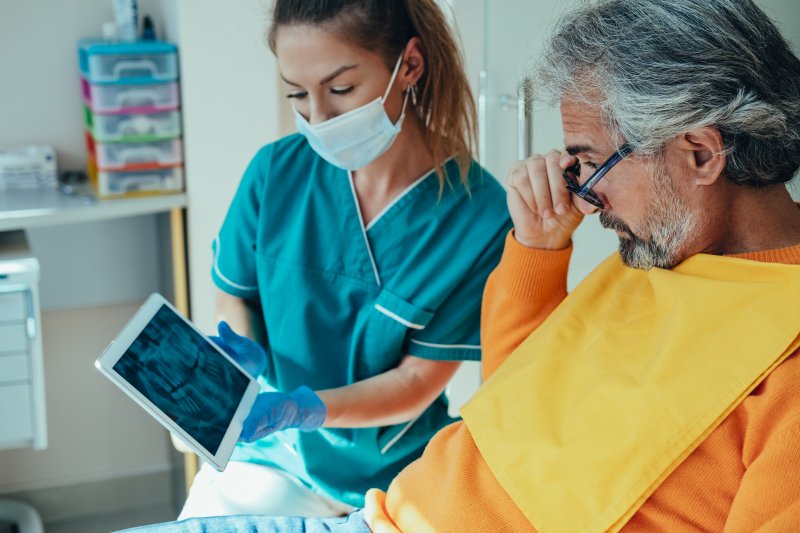 Do you have one or more missing pearly whites that need replacing? One of the most popular and effective ways to do this is with dental implants. By surgically embedding these titanium posts into your jawbone, you'll be able to preserve your jawbone and remaining teeth while enjoying the benefits of a full smile again! However, you'll first need to undergo a dental implant consultation to understand the details of your treatment. Read on to learn four things you can expect during your visit with your dentist.
#1: The Initial Conversation
Once you arrive at your appointment, you'll have the chance to speak with your dentist and dental team about your oral situation. They'll also review your history while they discuss your unique smile goals to understand your desired results. This will be the perfect time for you to ask as many questions as possible, as your dental team will want you to be well-informed about your treatment before beginning any work.
#2: Oral Health Assessment
During your consultation, your oral surgeon will perform a thorough examination of your oral health. This will include checking the condition of your gums, soft oral tissues, and any remaining teeth. They'll especially check if you have a sufficient amount of healthy jawbone density, as this will be essential for supporting dental implants. If you don't have enough strong bone tissue, then your treatment could potentially risk failure. To prevent this, you may require other preliminary procedures, such as a bone graft.
#3: X-Ray Examination
For a more accurate diagnosis of your oral health, your dentist may take X-rays and/or use CT scans. These will allow them to assess your jawbone structure and if there's enough density to place dental implants. By analyzing these images, your oral surgeon can verify where exactly your metal posts will be embedded for the best results.
#4: Treatment Plan & Discussion
After your dental team finishes your oral examination, they'll walk you through your treatment options for replacing your teeth. If your dentist concludes that dental implants are a good solution for your situation, they can develop a detailed treatment plan and give you a breakdown of what to expect from the entire process. This will include the timeline of your procedure, the number of appointments, your options for sedation therapy and local anesthesia, your recovery phase, and aftercare guidelines.
When going in for your initial dental implant consultation, feel free to take the time to ask as many questions as you need. Once you and your dental team are on the same page, you can proceed confidently with restoring your smile!
About the Author
Dr. Admasu Gizachew earned his dental doctorate from New York University and is a proud member of several groups like the New Jersey Dental Association and the American Academy of Implant Dentistry. He also regularly pursues countless hours of advanced training to expand his techniques. He provides multiple high-quality treatments, including dental implants. If you're ready to schedule an initial consultation, visit his website or call 718-568-0405.